This treaty, signed in May 1677, was a response to attacks on Virginia Indians carried out by followers of Nathaniel Bacon, raids that instigated Bacon's Rebellion against the colonial Virginia government. Bacon and other landholders on the edges of English settlement wanted more land for tobacco. They tried to push the colonial government to grant them land belonging to Virginia Indians by claiming they were victims of raids. The Virginia government refused. Bacon and his followers instead attacked the Pamunkey and the Occaneechi.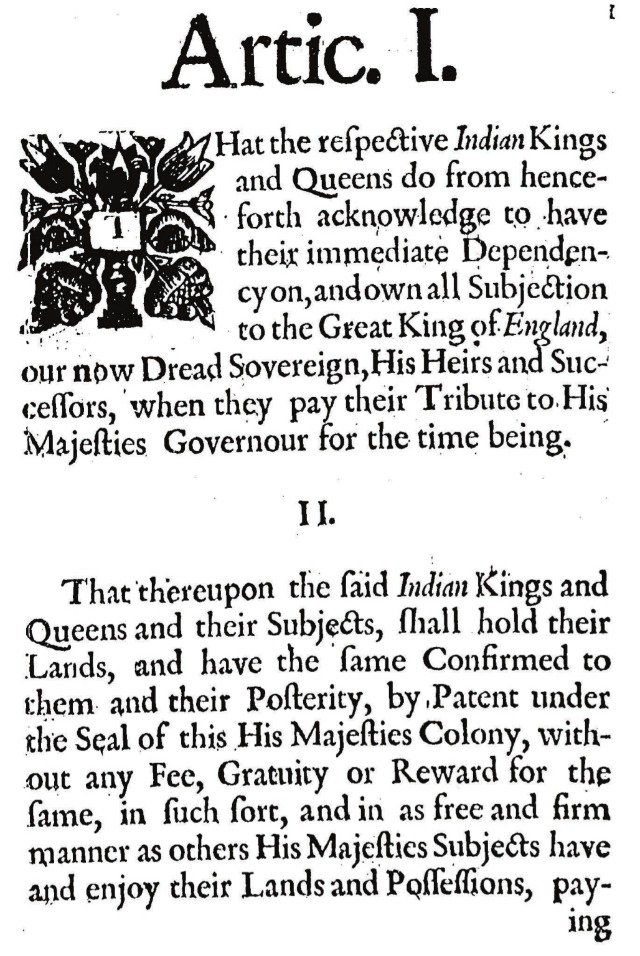 The 1677 treaty was an attempt to make amends. Under the treaty, the English government would protect the land of Virginia Indian signatories in exchange for their loyalty to the crown and a yearly tribute. Throughout the 17th and 18th centuries, life for Virginia Indians continued to change significantly. Those districts living on reservations and with direct access to the Virginia government were, materially and politically, marginally better off than their non-reservation counterparts. Virginia Indians living off reservations were generally at the mercy of local governments.
Two Virginia tribes, the Pamunkey and the Mattaponi, observe the tribute required by the 1677 treaty today. They present a tribute of fish and game to the Virginia Governor annually on the day before Thanksgiving.
Instructions
Explore the following resources to learn more about historical thinking. Click on an image thumbnail to load it in the main area. After exploring all of the resources, continue to the next page.