Federal and state recognition is important for American Indian groups today as recognition of their continued heritage and to promote education about the role of Indians in America's past. This map shows the eight tribes recognized by the Commonwealth of Virginia as of 2009. These tribes are the: Chickahominy, Eastern Chickahominy, Mattaponi, Monacan, Nansemond, Pamunkey, Rappahannock, and Upper Mattaponi. In 2010, Virginia officially recognized three more tribes, the Patowomeck (Stafford County) the Cheroenhaka (Courtland/Southampton) and the Nottoway of Virginia (Capron/Southampton).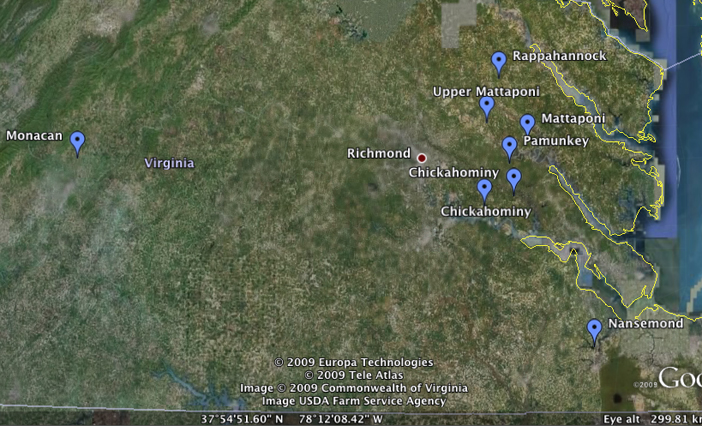 In a podcast produced by the American Indian Resource Center at the College of William and Mary, Chief Robert Green and Assistant Chief Gary Cooke (Patawomeke) discussed the importance of state recognition to their tribe. They pointed out how increased development affects their tribe through conflict over land. Additionally, since the tribe has no legal standing in the state, they have no way to protect their land or their ancestors' remains. Chief Green explained the difficulty of achieving official recognition, pointing out that it was not common for Indians to keep the type of legal documentation required by the government.
Instructions
Explore the following resources to learn more about historical thinking. Click on an image thumbnail to load it in the main area. After exploring all of the resources, continue to the next page.