The Chesapeake Bay has been a vital source of food and transportation since before the arrival of European explorers. Europeans used it not only for food and travel, but also for sheltered access to the Atlantic ocean and international commerce. Today, despite decades of lax management and pollution, the Chesapeake remains an important aspect of Virginia's culture and economy.
Tracing the vitality of the Bay's sea life – looking, for example, at the history of the eastern oyster – provides an interesting window on not only the ways in which people interact with the Bay, but also the long-range effects of actions inland.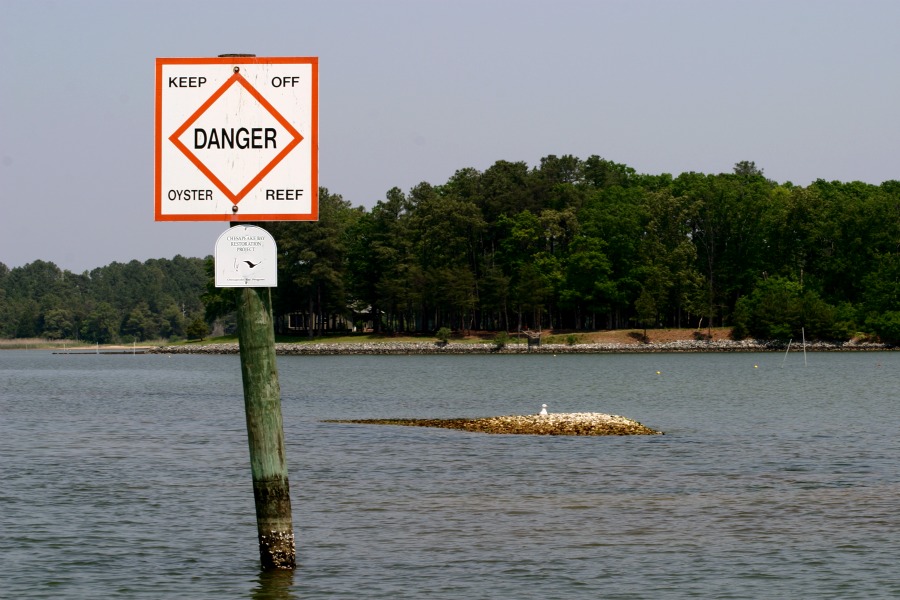 By the 1860s, the Bay was the main source of oysters for the entire U.S. The oyster industry required a large labor force willing to do back-breaking labor and drew many free black and as well as white workers to the Bay area. The communities these workers built remained into the 20th century and continue to contribute economically and culturally to the region. Over-harvesting, disease, and pollution from the fast-paced development of housing and industry in the Chesapeake watershed after World War II, however, led to historic lows in the oyster population. This decline had a ripple effect on the rest of the ecosystem because oyster reefs provide habitats for a variety of other sea life, and because oysters are filter-feeders and help to keep the Bay's water clean.
Efforts since the 1970s, such as the oyster reef protection shown in this photograph, continue to make progress in improving the health of the Bay. These efforts extend throughout the Chesapeake Bay watershed and include everything from habitat reconstruction and fishery management to erosion prevention and agricultural runoff management.
Instructions
Explore the following resources to learn more about historical thinking. Click on an image thumbnail to load it in the main area. After exploring all of the resources, continue to the next page.