Another way Virginians interact with the environment is through energy needs and production. Coal mining is a perfect example of intentional and unintentional ways in which Virginians shaped their environment. As you examine this postcard from Richmond, Virginia, published in 1919, consider how industry impacted the everyday lives and dreams of Virginians.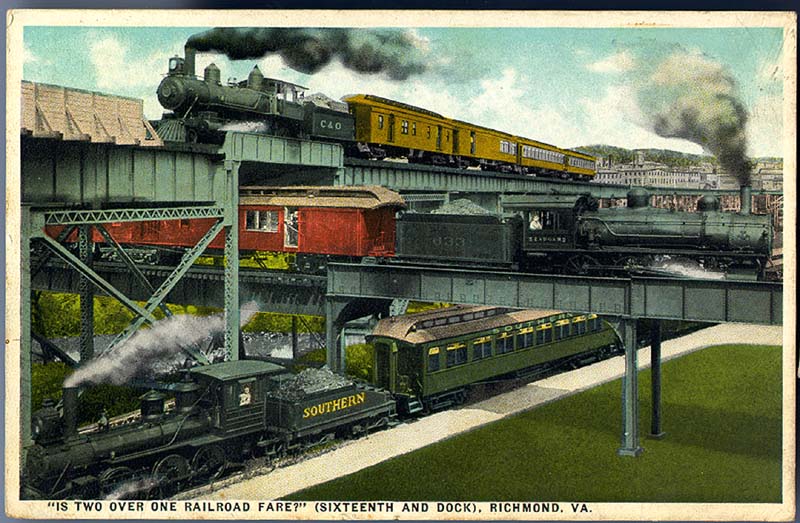 Before the widespread use of fossil fuels such as coal, all of Virginia's energy needs were supplied by organic sources such as wood, water, animal power, and human labor. But between the 1830s and the 1890s, the U.S. developed into the world's largest coal producer. Virginia's coal production made it an important contributor to the nation's energy resources.
Virginia's mining industry peaked early in the 20th century, but technological developments during the ensuing decades meant that the state remained a key coal producer. This also led to significant environmental consequences. Strip mining, for example, became common after World War II as an easier, and more ecologically destructive, means of getting to coal deposits. This technique sped up the removal of old growth forests, contributed to species extinction, and overburdened watersheds with runoff.
Coal, in addition to its environmental effects, also had a significant impact on Virginians' everyday lives. Its widespread use in industry meant the pace of work increased even as wages often remained low. It facilitated travel for both work and recreation and spurred glorified visions of machine-powered progress such as the one in this postcard (1919) from Richmond, Virginia.
Visions of industrial might and speed such as this were common of the early decades of the 20th century as faith in science, industry, and rationalization dominated. Coal use also increased the gap in the standard of living between wealthy and poorer Virginians, as cleaner-burning coal or electricity was too expensive for most working class people to buy. The modern vision of comfortable, electric-powered domesticity was, powered by coal, founded on significant environmental and human costs.
Instructions
Explore the following resources to learn more about historical thinking. Click on an image thumbnail to load it in the main area. After exploring all of the resources, continue to the next page.