Europeans discovered the Great Dismal Swamp around 1665 under the leadership of William Drummond. The swamp exhibits a number of unique qualities that made it a source of economic and cultural fascination for centuries. Unlike most other swamps, the Dismal Swamp actually lies above sea level and water drains out of it – from the shallow Lake Drummond (seen in this anonymous 1807 map) – rather than into it. The water of the swamp is also unusually pure, due to high levels of tannic acids from the juniper, gum, and Cyprus trees, which produces an environment vastly different than the surrounding land. These special characteristics make the swamp home to a vast array of plant and animal species not found anywhere else in the mid-Atlantic.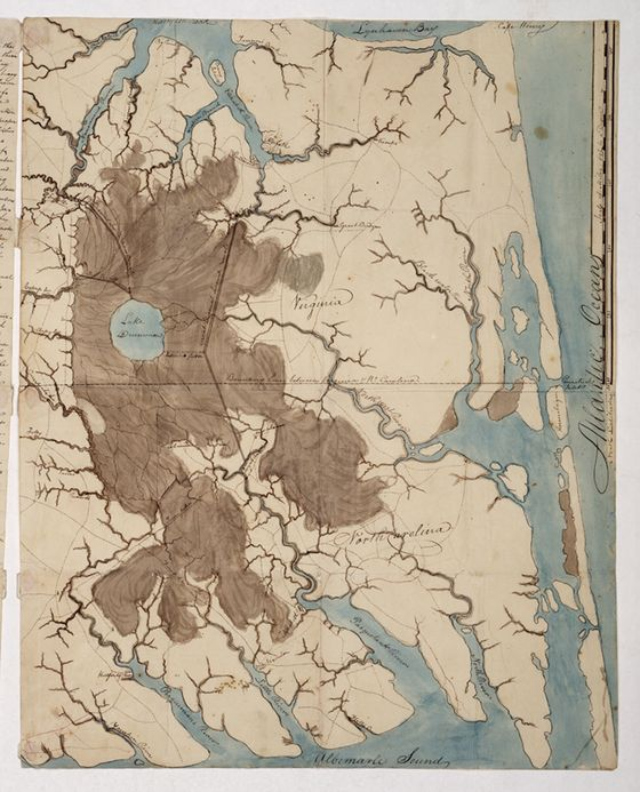 Because of its unique properties, Virginians have interacted with the Dismal Swamp in many different ways. In the 1760s, George Washington and several prominent Virginians and North Carolinians formed two companies: the Dismal Swamp Land Company, and the Adventurers for Draining the Great Dismal Swamp. In 1763, they purchased 40,000 acres of swampland. Their plan was to harvest timber and to drain the swamp and use the land for farming. While they eventually abandoned the plan for draining the swamp, timber harvesting continued into the 20th century. The last stands of virgin timber were cut in the 1950s. Today much of the swamp is a protected wildlife refuge.
The swamp also provided an important source of food and revenue to hunters and fishermen. It became an important waterway after the construction of the Great Dismal Swamp Canal completed around 1805. The canal is visible in this 1807 sketch running north-south to the east of the lake. The canal, the oldest continually-operating in the U.S. today, served as an important passage for transporting agricultural products to coastal ports. The swamp has also acquired a mythical cultural status due to its use as passage and haven for escaped slaves, and the seemingly magical properties of its water, which stagnates very slowly due to its acidity and was thus prized by ship captains.
Instructions
Explore the following resources to learn more about historical thinking. Click on an image thumbnail to load it in the main area. After exploring all of the resources, continue to the next page.